! Needs Images !
 ! Add info about counter !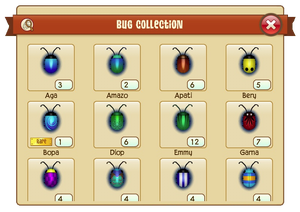 The Bug Collection is a feature in Tunnel Town. To access this element, the user must tap the 'red bug' icon situated on the left sidebar.
When the user views their collection, they will notice that some bugs display a golden rare tag at the bottom left of their picture. This indicates that the bug is less common than the others, and therefore are harder to collect.
There are 32 different types of bugs, 4 of which are rare.
The user may receive prizes after completing goals which are bug-related. These prizes consist of Gems, Stars and/or XP.
Capturing Bugs
Occasionally, the user will see bugs crawling around on the dirt in their burrow. When tapped, the bug will disappear and display a short animation presenting puffs of dust. The bug will then be added to the user's bug collection.
Goals
Bug goals include capturing a certain number of bugs.
Goal to collect 250 bugs (more info needed)
Goal to collect 1000 bugs (more info needed)
Goal to collect 250 rare bugs (more info needed)
Goal to collect 1000 rare bugs (more info needed)
Goals to collect ? bugs of a specific type (more info needed)
Plonk in the name of the goal here (name only, nothing else - other info will be on the goals page)
Trivia
The bugs are punned on gems. Examples are Sugi (sugilite), Pyro (pyrope), Sapphi (sapphire), Mala (malachite), Tanza (tanzanite), Sodano (sodalite), Tourma (tourmaline), Lazu (lazuli), Bery (beryl), and Jas (jasper).
Fancy info goes here.
Bugs
| Name | Rare? | Picture |
| --- | --- | --- |
| Aga | No | |
| Amazo | No | |
| Apati | No | |
| Bery | No | |
| Bopa | Yes | |
| Diop | No | |
| Emmy | No | |
| Garna | No | |
| Jas | No | |
| Lazu | No | |
| Lazuna | No | |
| Lina | No | |
| Loli | Yes | |
| Mala | No | |
| Obi | No | |
| Ony | No | |
| Poody | No | |
| Pyro | No | |
| Rhodo | Yes | |
| Rudi | No | |
| Sapphi | No | |
| Smoky | No | |
| Sodano | No | |
| Sphy | No | |
| Spini | No | |
| Sugi | No | |
| Sunny | No | |
| Tanza | No | |
| Tourma | No | |
| Turk | Yes | |
| Zirc | No | |
| Zirdo | No | |
Gallery