Article Incomplete
This article is either incomplete or lacks information. Please help us by adding in your knowledge, and then remove the 'Incomplete' tag.
The Bunny Clock is a furniture item for the burrow. It is available for purchase from McFluffin's Market for 600

. It can be obtained from level level and up.
Appearance
The Bunny Clock appears as a white bunny head with teeth on the bottom of the clock, it also has a nose and clock hands that rotate clockwise, each hand going at different speeds. There are the numbers 12, 3, 6, and 9 on the face. It also has ears. This item comes in 1 color variant.
Trivia
The clock hands and ears move.
Like the standard clock, it makes noises whenever the player gets close to it, but instead it makes "bunny" sounds.
Gallery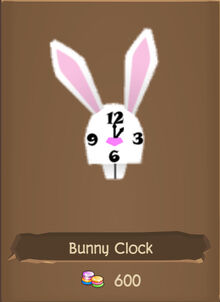 Community content is available under
CC-BY-SA
unless otherwise noted.