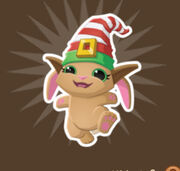 This is an incomplete article. If you can put in all the information, please remove this message.

The Elf Bunny is a Seasonal:Midwinter  Bunny that costs 20 stars  at McFluffin's Market  .
Whenever someone wants to introduce you to an elf, you immediately wonder if it will be the little squeaky-voiced toymaking kind, or the awesome Lord of the Rings kind. All you need to know about Elf Bunnies is that they are former, but see themselves as the latter.